Datasheet ASMT-Jx1x (Avago Technologies)
制造商
Avago Technologies
描述
1 W Mini Power LED Light Source
页数 / 页
16

/

1

— ASMT-Jx1x. Data Sheet. Description. Features. Applications. CAUTION:

文件格式/大小
PDF

/

470 Kb
文件语言
英语
ASMT-Jx1x. Data Sheet. Description. Features. Applications. CAUTION: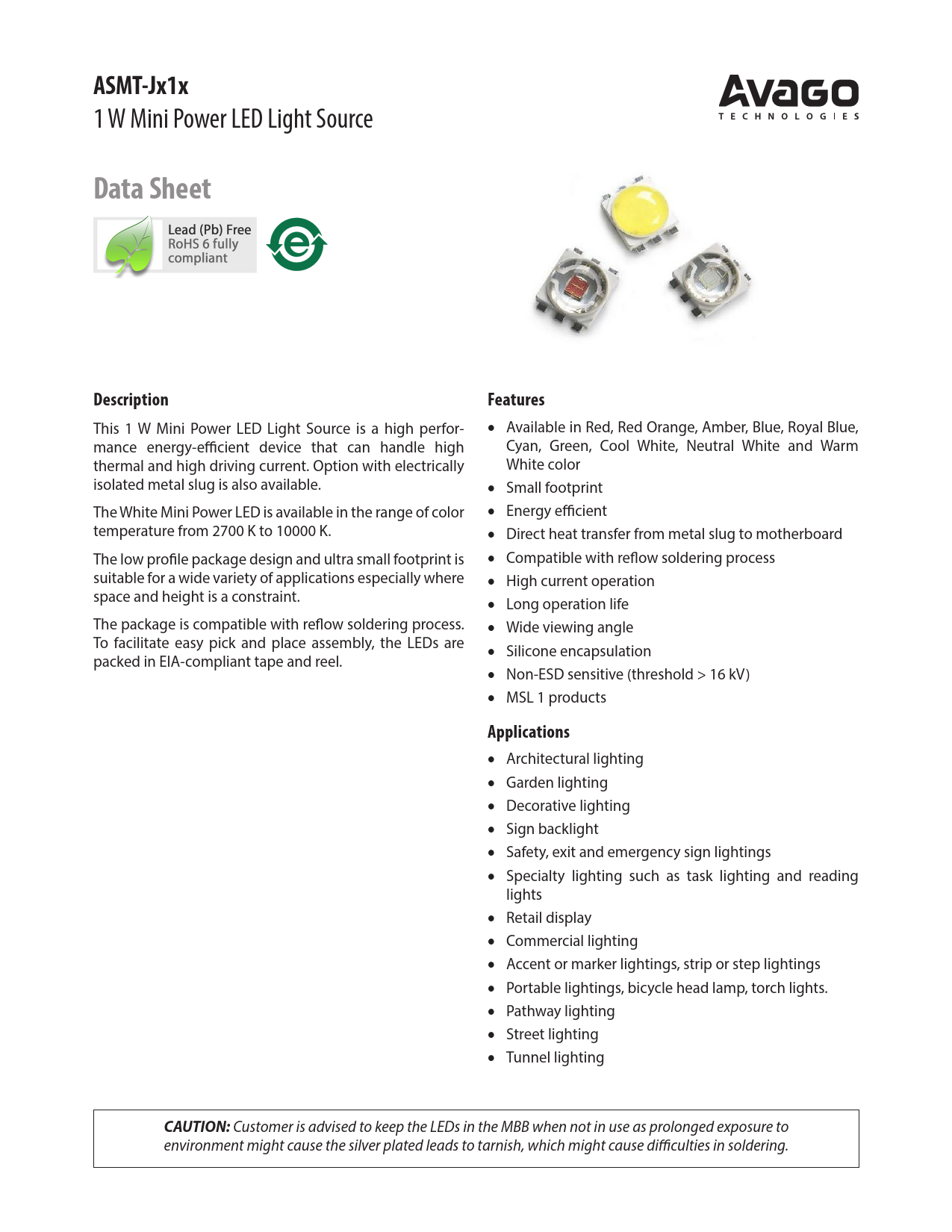 该数据表的模型线
文件文字版本
ASMT-Jx1x
1 W Mini Power LED Light Source
Data Sheet Description Features
This 1 W Mini Power LED Light Source is a high perfor- • Available in Red, Red Orange, Amber, Blue, Royal Blue, mance energy-efficient device that can handle high Cyan, Green, Cool White, Neutral White and Warm thermal and high driving current. Option with electrically White color isolated metal slug is also available. • Small footprint The White Mini Power LED is available in the range of color • Energy efficient temperature from 2700 K to 10000 K. • Direct heat transfer from metal slug to motherboard The low profile package design and ultra small footprint is • Compatible with reflow soldering process suitable for a wide variety of applications especially where • High current operation space and height is a constraint. • Long operation life The package is compatible with reflow soldering process. • Wide viewing angle To facilitate easy pick and place assembly, the LEDs are • Silicone encapsulation packed in EIA-compliant tape and reel. • Non-ESD sensitive (threshold > 16 kV) • MSL 1 products
Applications
• Architectural lighting • Garden lighting • Decorative lighting • Sign backlight • Safety, exit and emergency sign lightings • Specialty lighting such as task lighting and reading lights • Retail display • Commercial lighting • Accent or marker lightings, strip or step lightings • Portable lightings, bicycle head lamp, torch lights. • Pathway lighting • Street lighting • Tunnel lighting
CAUTION:
Customer is advised to keep the LEDs in the MBB when not in use as prolonged exposure to environment might cause the silver plated leads to tarnish, which might cause difficulties in soldering.