Datasheet MAX4624, MAX4625 (Maxim)
制造商
Maxim
描述
1Ω, Low-Voltage, Single-Supply, SPDT Analog Switches
页数 / 页
11

/

1

— , Low-Voltage, Single-Supply. SPDT Analog Switches. MAX4624/MAX4625. …

文件格式/大小
PDF

/

218 Kb
文件语言
英语
, Low-Voltage, Single-Supply. SPDT Analog Switches. MAX4624/MAX4625. General Description. Features. Low RON. max (+5V Supply)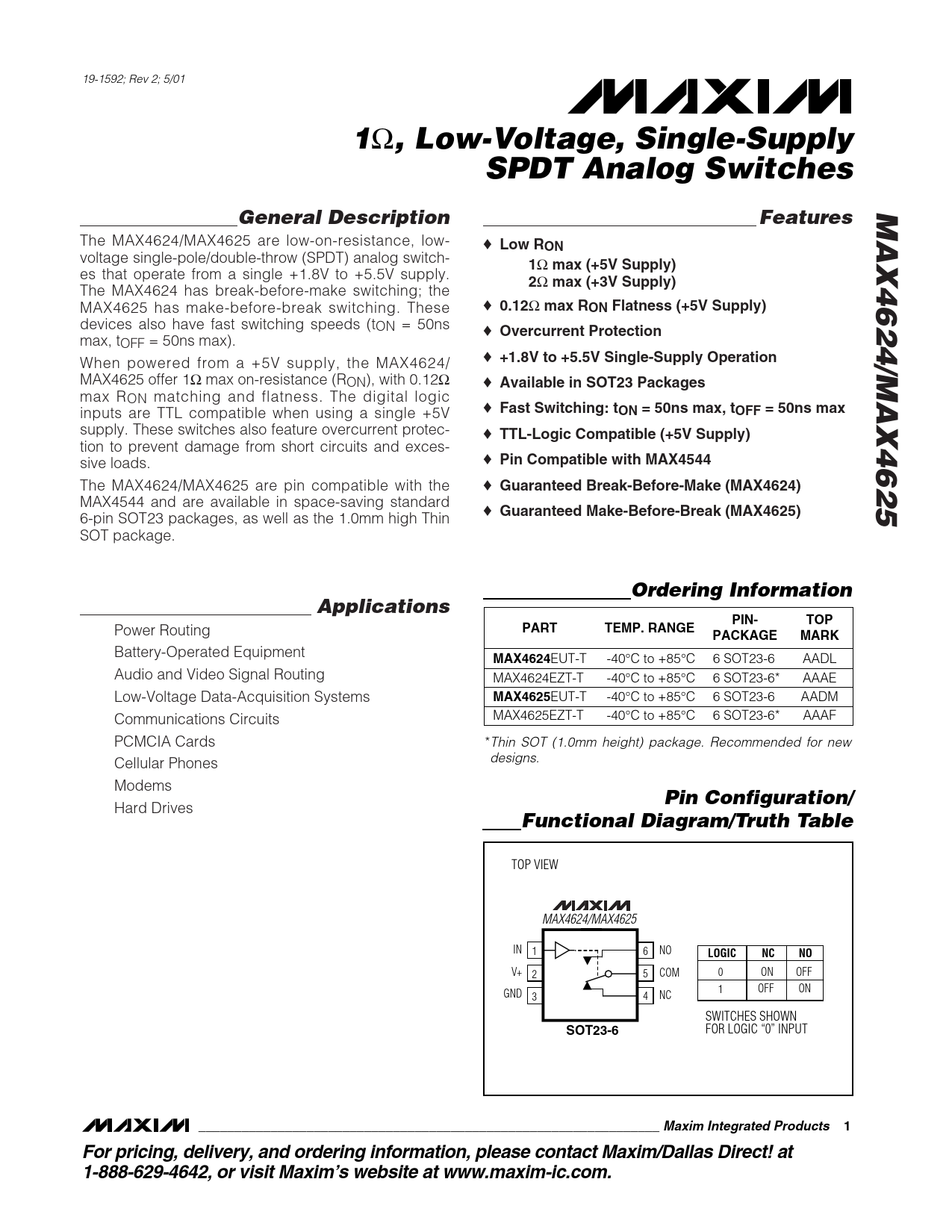 该数据表的模型线
文件文字版本
19-1592; Rev 2; 5/01
1
Ω
, Low-Voltage, Single-Supply SPDT Analog Switches MAX4624/MAX4625 General Description Features
The MAX4624/MAX4625 are low-on-resistance, low- ♦
Low RON
voltage single-pole/double-throw (SPDT) analog switch-
1
Ω
max (+5V Supply)
es that operate from a single +1.8V to +5.5V supply.
2
Ω
max (+3V Supply)
The MAX4624 has break-before-make switching; the MAX4625 has make-before-break switching. These ♦
0.12
Ω
max RON Flatness (+5V Supply)
devices also have fast switching speeds (tON = 50ns ♦
Overcurrent Protection
max, tOFF = 50ns max). ♦ When powered from a +5V supply, the MAX4624/
+1.8V to +5.5V Single-Supply Operation
MAX4625 offer 1Ω max on-resistance (RON), with 0.12Ω ♦
Available in SOT23 Packages
max RON matching and flatness. The digital logic inputs are TTL compatible when using a single +5V ♦
Fast Switching: tON = 50ns max, tOFF = 50ns max
supply. These switches also feature overcurrent protec- ♦
TTL-Logic Compatible (+5V Supply)
tion to prevent damage from short circuits and exces- sive loads. ♦
Pin Compatible with MAX4544
The MAX4624/MAX4625 are pin compatible with the ♦
Guaranteed Break-Before-Make (MAX4624)
MAX4544 and are available in space-saving standard ♦
Guaranteed Make-Before-Break (MAX4625)
6-pin SOT23 packages, as well as the 1.0mm high Thin SOT package.
Ordering Information Applications PIN- TOP
Power Routing
PART TEMP. RANGE PACKAGE MARK
Battery-Operated Equipment
MAX4624
EUT-T -40°C to +85°C 6 SOT23-6 AADL Audio and Video Signal Routing MAX4624EZT-T -40°C to +85°C 6 SOT23-6* AAAE Low-Voltage Data-Acquisition Systems
MAX4625
EUT-T -40°C to +85°C 6 SOT23-6 AADM Communications Circuits MAX4625EZT-T -40°C to +85°C 6 SOT23-6* AAAF PCMCIA Cards *Thin SOT (1.0mm height) package. Recommended for new Cellular Phones designs. Modems
Pin Configuration/
Hard Drives
Functional Diagram/Truth Table
TOP VIEW MAX4624/MAX4625 IN 1 6 NO
LOGIC NC NO
V+ 2 5 COM 0 ON OFF OFF ON GND 1 3 4 NC SWITCHES SHOWN
SOT23-6
FOR LOGIC "0" INPUT
________________________________________________________________ Maxim Integrated Products 1 For pricing, delivery, and ordering information, please contact Maxim/Dallas Direct! at 1-888-629-4642, or visit Maxim's website at www.maxim-ic.com.