Datasheet MAX882, MAX883, MAX884 (Maxim)
制造商
Maxim
描述
5V/3.3V or Adjustable, Low-Dropout, Low-IQ, 200mA Linear Regulator with Standby Mode
页数 / 页
17

/

1

— 5V/3.3V or Adjustable, Low-Dropout,. Low IQ, 200mA Linear Regulators. …

文件格式/大小
PDF

/

514 Kb
文件语言
英语
5V/3.3V or Adjustable, Low-Dropout,. Low IQ, 200mA Linear Regulators. MAX882/MAX883/MAX884. General Description. Features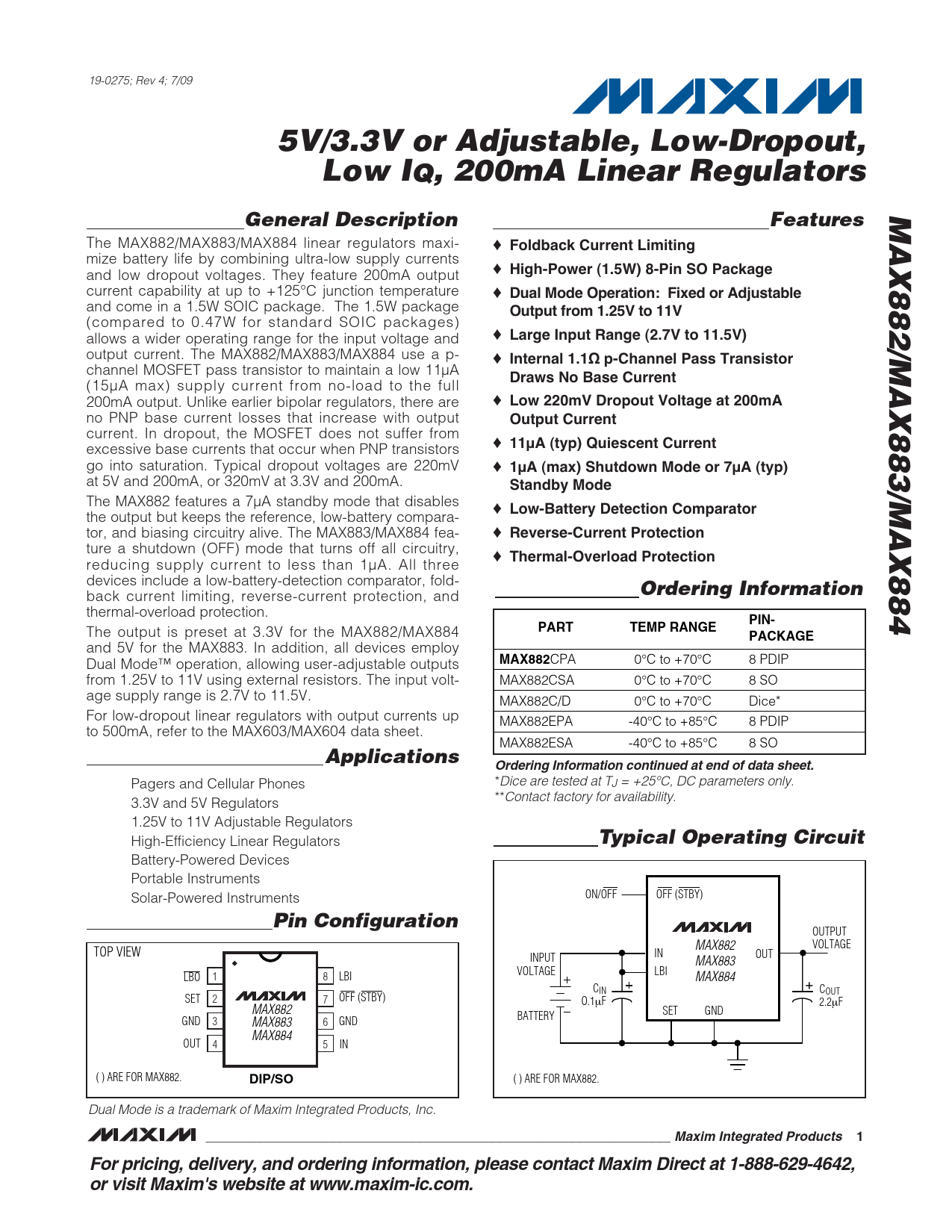 该数据表的模型线
文件文字版本
19-0275; Rev 4; 7/09
5V/3.3V or Adjustable, Low-Dropout, Low IQ, 200mA Linear Regulators MAX882/MAX883/MAX884 General Description Features
The MAX882/MAX883/MAX884 linear regulators maxi- o
Foldback Current Limiting
mize battery life by combining ultra-low supply currents and low dropout voltages. They feature 200mA output o
High-Power (1.5W) 8-Pin SO Package
current capability at up to +125°C junction temperature o
Dual Mode Operation: Fixed or Adjustable
and come in a 1.5W SOIC package. The 1.5W package
Output from 1.25V to 11V
(compared to 0.47W for standard SOIC packages) allows a wider operating range for the input voltage and o
Large Input Range (2.7V to 11.5V)
output current. The MAX882/MAX883/MAX884 use a p- o
Internal 1.1Ω p-Channel Pass Transistor
channel MOSFET pass transistor to maintain a low 11µA
Draws No Base Current
(15µA max) supply current from no-load to the full 200mA output. Unlike earlier bipolar regulators, there are o
Low 220mV Dropout Voltage at 200mA
no PNP base current losses that increase with output
Output Current
current. In dropout, the MOSFET does not suffer from o excessive base currents that occur when PNP transistors
11µA (typ) Quiescent Current
go into saturation. Typical dropout voltages are 220mV o
1µA (max) Shutdown Mode or 7µA (typ)
at 5V and 200mA, or 320mV at 3.3V and 200mA.
Standby Mode
The MAX882 features a 7µA standby mode that disables o
Low-Battery Detection Comparator
the output but keeps the reference, low-battery compara- tor, and biasing circuitry alive. The MAX883/MAX884 fea- o
Reverse-Current Protection
ture a shutdown (OFF) mode that turns off all circuitry, o
Thermal-Overload Protection
reducing supply current to less than 1µA. All three devices include a low-battery-detection comparator, fold-
Ordering Information
back current limiting, reverse-current protection, and thermal-overload protection.
PIN-
The output is preset at 3.3V for the MAX882/MAX884
PART TEMP RANGE PACKAGE
and 5V for the MAX883. In addition, all devices employ Dual Mode™ operation, allowing user-adjustable outputs
MAX882
CPA 0°C to +70°C 8 PDIP from 1.25V to 11V using external resistors. The input volt- MAX882CSA 0°C to +70°C 8 SO age supply range is 2.7V to 11.5V. MAX882C/D 0°C to +70°C Dice* For low-dropout linear regulators with output currents up MAX882EPA -40°C to +85°C 8 PDIP to 500mA, refer to the MAX603/MAX604 data sheet. MAX882ESA -40°C to +85°C 8 SO
Applications Ordering Information continued at end of data sheet.
Pagers and Cellular Phones *Dice are tested at TJ = +25°C, DC parameters only. 3.3V and 5V Regulators **Contact factory for availability. 1.25V to 11V Adjustable Regulators High-Efficiency Linear Regulators
Typical Operating Circuit
Battery-Powered Devices Portable Instruments Solar-Powered Instruments ON/OFF OFF (STBY)
Pin Configuration
OUTPUT MAX882 VOLTAGE TOP VIEW INPUT IN OUT MAX883 VOLTAGE LBI LBO 1 8 LBI MAX884 CIN COUT SET 2 7 OFF (STBY) O.1μF 2.2μF MAX882 SET GND BATTERY GND 3 MAX883 6 GND MAX884 OUT 4 5 IN ( ) ARE FOR MAX882.
DIP/SO
( ) ARE FOR MAX882. Dual Mode is a trademark of Maxim Integrated Products, Inc.
________________________________________________________________ Maxim Integrated Products 1 For pricing, delivery, and ordering information, please contact Maxim Direct at 1-888-629-4642, or visit Maxim's website at www.maxim-ic.com.